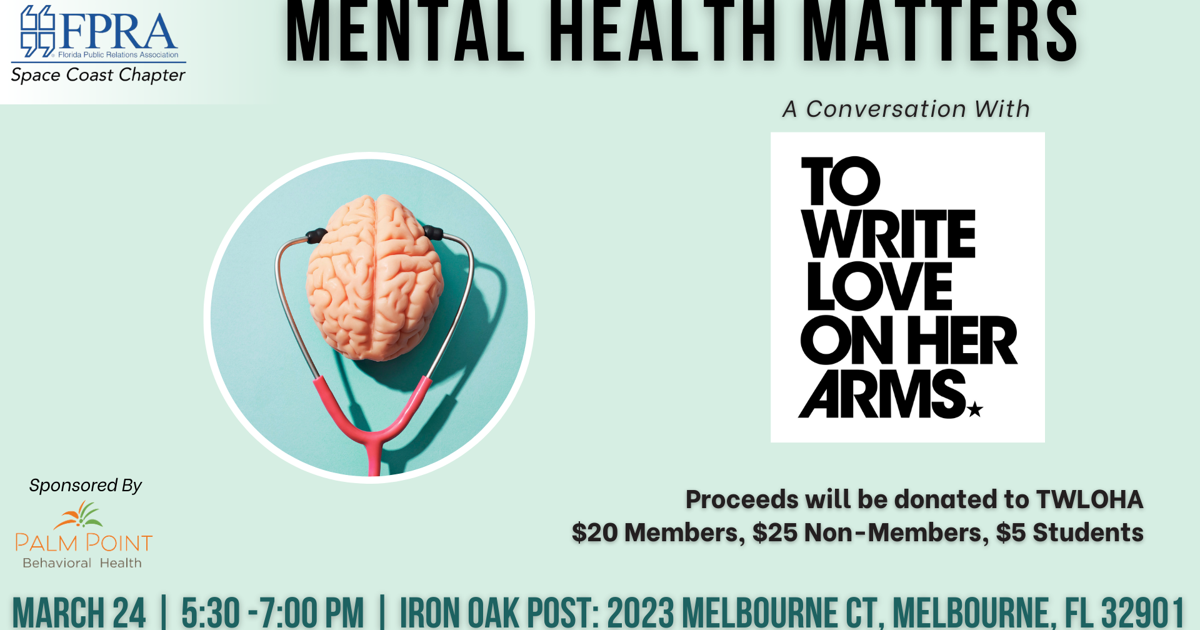 'To Write Love on Her Arms' set for March 24 | News
BREVARD COUNTY – The Space Coast Chapter of the Florida Public Relations Association is hosting a fundraiser on Thursday, March 24, 2022 from 5:30 p.m. to 7:00 p.m. at the Iron Oak Post in downtown Melbourne to support the organization in Melbourne-based non-profit To Write Love on Her Arms. Tickets for the event are $20 for SCFPRA members, $25 for non-members and $5 for students. Interested persons can register online at http://tinyurl.com/SCFPRATWLOHAEvent. All proceeds from the event will go directly to To Write Love on Her Arms to support their mission.
Based in Melbourne, founded in 2006 by Jamie Tworkowski and inspired by his experience supporting a personal friend in the days leading up to her arrival at a treatment centre, To Write Love on Her Arms (TWLOHA) is a "movement with purpose nonprofit dedicated to presenting hope and finding help for people struggling with depression, addiction, self-harm and suicide.
TWLOHA exists to encourage, inform, inspire and invest directly in treatment and recovery. In the years since, TWLOHA has gained a national following, with celebrities and endorsements from Miley Cyrus, Jessica Chastain, Liv Tyler, Jared Padelecki and Joaquin Phoenix, among others. According to the TWLOHA website, the nonprofit organization has donated "more than $2.6 million to treatment and recovery and awarded funding to 105 unique counseling organizations and practices." Known for their self-titled t-shirts that are sold to raise money for the organization, TWLOHA first made waves in the mid-2000s by reaching a young audience who felt connected to their mission and merchandise.
The Space Coast Chapter of the Florida Public Relations Association (FPRA) was founded over 30 years ago and "offers a wide range of professional networking opportunities, professional development programs, and community service projects." This membership-based organization charges a small annual fee, with scholarships available for those who need help. Throughout the year, they hold monthly membership meetings, provide continuing education opportunities (including professional certification and accreditation), an annual conference and an annual awards ceremony, the Space Coast Image Awards, recognizing "outstanding public relations activities in Florida".
This conversational event will be hosted at Iron Oak Post in Melbourne's city center and is sponsored by Titusville-based Palm Point Behavioral Health, a treatment center "dedicated to excellence in treatment and convinced that long-term recovery term can be a reality for patients." Palm Point's programs provide inpatient and outpatient services for children, adolescents, adults, and mature adults with mental and behavioral health issues. They" use evidence-based treatment to give patients the tools they need to envision a healthier, happier future.Our licensed mental health professionals are available 24/7 to provide you with, you or your loved one, a free assessment of your mental health.
To learn more about To Write Love on Her Arms, or to donate to the organization, visit https://twloha.com/. More information about the Space Coast Chapter of the Florida Public Relations Association, including membership details, can be found at http://www.spacecoastfpra.com/. Learn more about Palm Point Behavioral Health at https://palmpointbehavioral.com/.