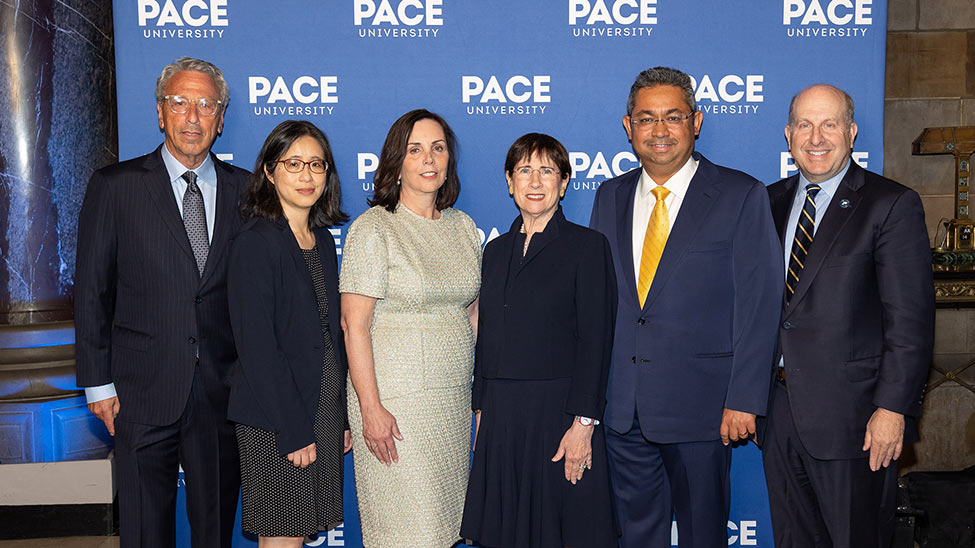 Pace University recognizes community leaders and alumni with Spirit Of Pace Awards
Raising funds for scholarships and special initiatives
During a special event at Cipriani 42n/a Street, Pace University recognized five outstanding community and business leaders and alumni with The Spirit of Pace Awards. Celebrating Pace University's role as a national leader in providing a college education with a strong return on investment, the annual event brings together the university community to support scholarships and special initiatives.
"These Spirt of Pace award recipients are a remarkable group of leaders who have given so much to Pace University, their communities and the world," said President Marvin Krislov. "We are delighted to honor them, and we are deeply grateful for their friendship with the University and their commitment to creating opportunities for our ambitious and hardworking students."
Hosted by Jevon Donaldson '22, who recently earned a BFA in Performance from the Pace School of Performing Arts, the event featured visual depictions of the winners' contributions to the Pace community when they received their awards.
"It's wonderful to come together again in person to celebrate the people and passion that make Pace a leader in positioning students for success in their careers and lives," said Vice President of Development and alumni relations, Gary Laermer '80. "The commitment of those who demonstrate the spirit of rhythm to support the next generation of community and business leaders deserves our recognition and gratitude."
The Lifetime Achievement Award was presented to Barry M. Gosin, CEO of Newmark Group Inc., and Trustee of Pace University, whose generous support enabled the establishment of the Barry M. and Jackie Gosin Center for Equity and Inclusion. Established in 2021, the Center supports Pace's ongoing anti-racism and equity efforts, expands work to improve placement and entrepreneurship among Black, Indigenous and Students of Color (BIPOC), and improves scholarships in these fields.
Donna Murphy '82, Global Chief Executive Officer Havas Health & You, and Pace University Trustee, received the Leader in Management award. Donna Murphy and her team have made Havas Health & You the largest health and wellness communications network in the world. She now leads 5,000 employees worldwide in more than 80 multidisciplinary health-focused marketing agencies in more than 70 countries and remains dedicated to charitable efforts.
Administrator of Pace University and former Special Counsel at Schulte Roth & Zabel LLP Susan S. Wallach received the Impact award. Wallach is Chair of the Development, Alumni Relations, and Public Affairs Committee of the Board of Trustees and in addition to volunteering her time and talent, Susan S. Wallach has generously supported University initiatives and granted grants related to education, youth, arts, health and Jewish causes through the Susan S & Kenneth Wallach Foundation.
The Lubin Alumni Achievement Award was presented to Ashu Rathor '01, who is a partner at EY as Global Tax Leader for EY's Global Delivery Services (GDS). Rathor, who sits on the advisory board of the Lubin School of Business, first introduced EY's Young Tax Professional of the Year program in GDS in 2018, giving high-potential students a platform to be recognized and associated with EY prior to the start of their careers.
Professor of Information Technology at the Seidenberg School of Computer Science and Information Systems Li-Chiou Chen, PhD received the Homer and Charles Pace Faculty Award. Professor Chen, PhD, who joined Pace University in 2004, is executive director of cybersecurity programs at Seidenberg and has won multimillion-dollar federal grants to support university cybersecurity research and education programs. Since 2010, she has directed the Scholarship for Service: CyberCorps program at Pace through the National Science Foundation, which positions alumni to work in cybersecurity in various government agencies.
Honorees, alumni, friends and donors have raised over $1.2 million to support the Pace mission and students.