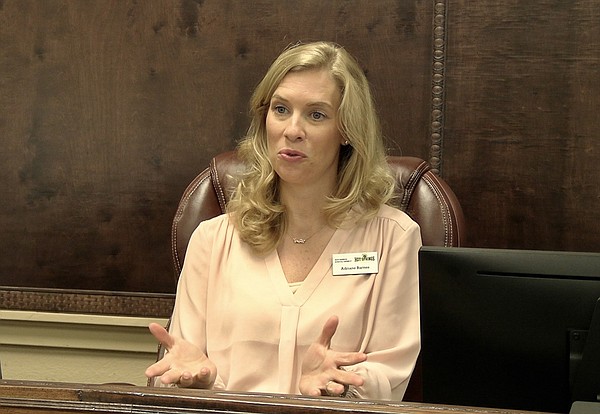 HS plans less restrictive graduation events
After two years of strict COVID-19 guidelines and protocols, the Hot Springs School District hopes this year's graduation ceremonies will see a much closer return to normal.
Adriane Barnes, the district's communications and public relations coordinator, said she was "excited" to reunite with families in person in May, with no tickets required for graduation events. Unlike the past two years, there will be no guest limit for graduate students.
She said this is the first time in quite a while that they can "allow the whole community and allow our children who invite family members – who may be spread across our state or even across the country – to come and celebrate their achievements."
Hot Springs World Class High School will have its graduation on May 12 at Bank OZK Arena. The district will also host sixth grade and kindergarten graduations for its other schools later this month.
"We're obviously going to be very flexible and considerate if we have to make required masks based on the percentage of individuals who have tested positive for COVID-19. If that percentage increases by May 12, we'll be mindful of that. "Said Barnes. "At the moment, however, all of our activities are operating with optional masks. So the biggest thing to celebrate is that our community can come together again without terribly strict restrictions to celebrate our children."
In 2020 and 2021, graduates were given a set number of tickets to give away to family and friends, due to restrictions in place.
"It was totally based on what was safest and best for our community at that time," she said. "So tickets were limited, masks were completely mandatory, obviously, and in every way our students just had restrictions on who they could allow to celebrate one of the greatest moments of their lives until that time. So we're excited this year to be able to open it up to everyone."
Barnes said if there is an increase in COVID-19 cases and a mask requirement is reissued, the district does not plan to limit the number of guests a student can bring with them.
Video not playing? Click here https://www.youtube.com/embed/72-rcG5FbXk
She noted that one positive aspect that has come out of the pandemic is the benefits of live streaming. All graduation ceremonies throughout the district will be livestreamed as an option for those not in attendance.
"There is nothing more uplifting for our students than when we can connect our families to their growth and success in school. Whether it is academically or in the growth of social/emotional supports that they cross over into some of our activities in our programs.
"We are thrilled with this not only because our staff love being able to connect with families, we know it is one of the best ways to provide a high quality education for our children. We know it means the world to our children. Our children need to have their families connected to their educational experience," she said.
This connection, she noted, is essential to a child's growth because it influences what happens in the classroom.
"It's important because it allows our students to take what they have achieved in the classroom and ensure that they are celebrated for it by the people closest to them. Those relationships, that encouragement, this connection to their village, is terribly important for a child as he or she learns to gain confidence and have the worth and worth they will need to succeed after graduation."
Barnes said she looks forward to hosting more events this summer, including several individual and team camps, as well as the Trojan Eats food truck and Trojan Reads book bus programs.
"We are very happy to be able to host these experiences, hopefully without COVID restrictions," she said. "We're expecting enthusiastic students, lots of families in attendance, and really excited about what it will look like in a different setting for this spring and summer."
Langston Elementary Leadership Academy will host the sixth-grade graduation on May 25 at 10 a.m. in the Joyce L. Littleton Craft Auditorium. Kindergarten graduation will be held May 25 at noon in Langston. Oaklawn STEM Magnet School will have sixth grade graduation May 24 at 9 a.m. in the Joyce L. Littleton Craft Auditorium, with kindergarten May 20 at 9 a.m. at the school.
Park Magnet, an IB World School, will have sixth grade graduation on May 26 at 1 p.m. in the Joyce L. Littleton Craft Auditorium, with kindergarten at 9 a.m. at the school. Main Street Visual & Performing Arts Magnet School will host sixth-grade graduation May 17 at 9 a.m. at the Joyce L. Littleton Craft Auditorium, with kindergarten May 24 at 9 a.m. at the school.