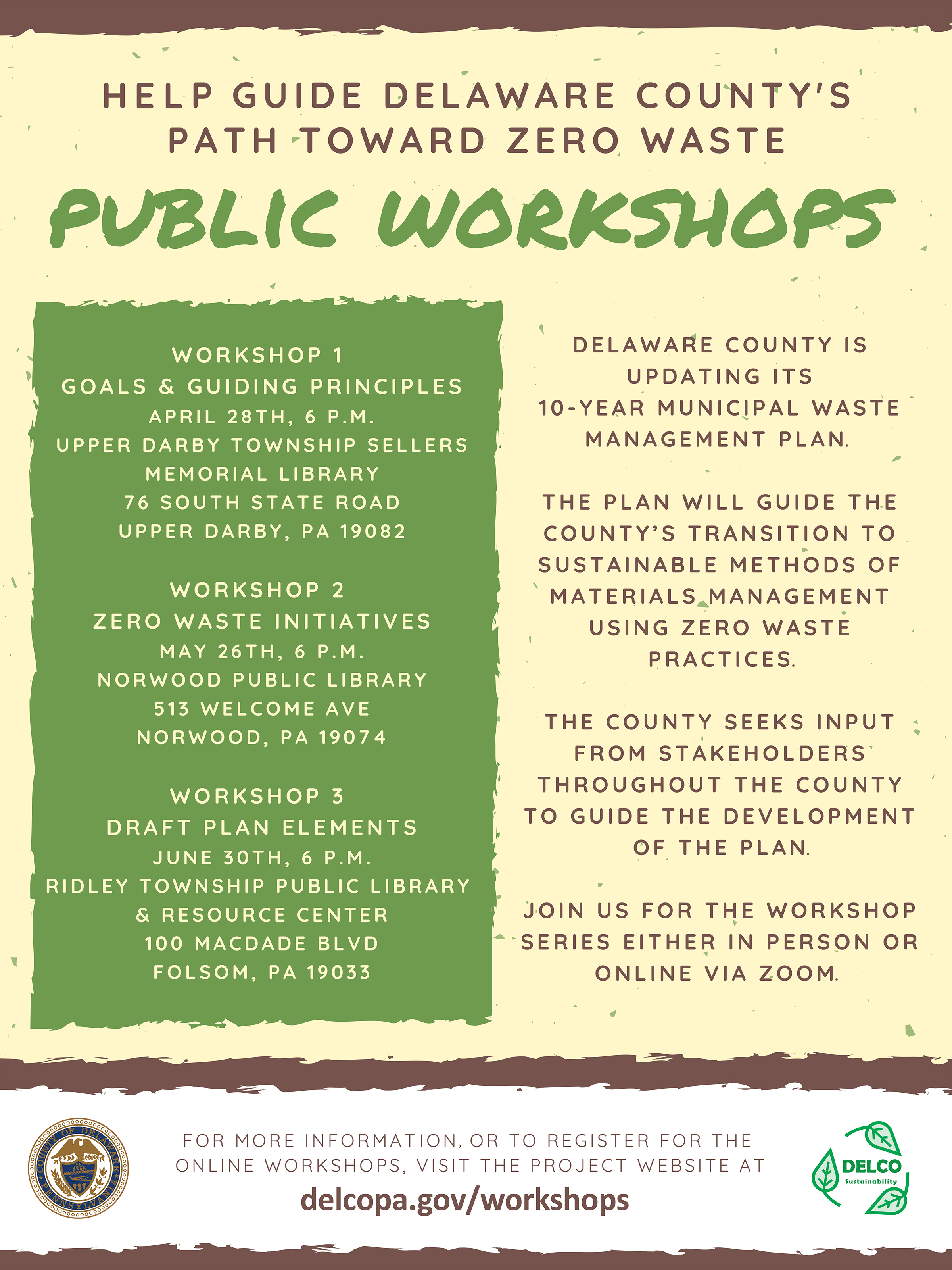 Delaware County's Path to Zero Waste: Public Workshop Series
Released: April 19, 2022
Pursuant to Pennsylvania Law 101, Delaware County has begun the process of updating its 10-Year Municipal Waste Management Plan, last updated in 2013. Currently, the majority of waste not The county's recycled waste (370,000 tonnes/year) is destined for the Covanta incinerator in Chester, with an additional 30,000 tonnes per year destined for the Rolling Hills landfill in Berks County.
The updated municipal waste management plan will guide the county's transition from reliance on incineration and landfills to sustainable materials management methods using zero waste practices. This will maximize the achievable reduction in municipal waste and source-separated recyclables and ensure the county has sufficient treatment and disposal capacity for its municipal waste over the next 10 years.
This comprehensive plan will also support the development of county waste and resource management goals, which will be included in the Delaware County Climate and Sustainability Action Plan.
To help ensure the new plan reflects the priorities of Delaware County residents, businesses and institutions, the public is invited and encouraged to attend a series of public workshops, held in person and via Zoom, that will provide participants an opportunity to give feedback and share ideas.
For more details and to register, go to delcopa.gov/workshops. The Zoom link for online participation will be provided at the end of the registration process.

PUBLIC WORKSHOP 1: OBJECTIVES AND GUIDING PRINCIPLES
April 28, 6:00 p.m.
Upper Darby Township Vendors Memorial Library
76 South State Road, Upper Darby, PA 19082

PUBLIC WORKSHOP 2: ZERO WASTE INITIATIVES
May 26, 6 p.m.
Norwood Public Library
513 Welcome Avenue, Norwood, Pennsylvania 19074

PUBLIC WORKSHOP 3: DRAFT ELEMENTS OF PLAN
June 30, 6 p.m.
Township of Ridley Public Library and Resource Center
100 MacDade Blvd., Folsom, Pennsylvania 19033