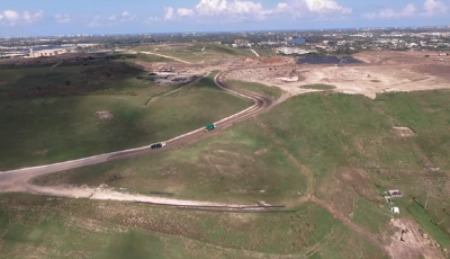 Broward Judge Tuter rules for waste management and against Ron Bergeron
By Dan Christensen, FloridaBulldog.org
Six years of acrimonious litigation that culminated in a four-week trial last month ended Friday night when a Broward judge ruled there was no evidence Waste Management and its co-defendants conspired to ruin Davie's businessman Ron Bergeron's recycling business.
Chief Justice Jack Tuter's sweeping decision, rejecting Bergeron's legal arguments at every turn, is a crushing defeat for the wealthy, politically connected land baron who currently sits on the Southern Water Management District's board of directors. from Florida.
"Plaintiff, Bergeron Environmental and Recycling LLC is judged to derive nothing from this action," Tuter wrote in his 22-page order. The judge then ordered Bergeron to pay what could amount to millions of dollars in attorneys' fees and costs for those he sued – the defendants. Waste ManagementLGL Reycling LLC (formerly known as Sun Recycling LLC, and LGL executives Anthony Lomangino, Charles Gusmano, Charles Lomangino and John Casagrande.
Attorneys for the defendants included Holland & Knight, Mracheck, Fitzgerald, Rose, Konopka, Thomas & Weiss, Clyde & Co. and Bruce Rogow. Bergeron's law firm was Berger Singerman.
The roots of the business date back to 2011 when Bergeron and Anthony Lomangino came together to form Sun/Bergeron, a 50-50 joint venture (JV) to bid on municipal contracts for the disposal of solid waste and recyclable materials.
Sun, part of Southern Waste Systems (SWS), had the infrastructure, trucks and disposal facilities. Bergeron had "city and county contacts and an honorable reputation in Broward County," Tuter wrote.
A CASE THAT GOES WRONG
For decades, Waste Management has locked down Broward's garbage services. But in 2013, after much lobbying, Sun/Bergeron won 17 municipal contracts. They were to last five years, without extension. Under Sun/Bergeron, disposal service costs have dropped significantly.
But halfway through, Bergeron discovered that Lomangino was buying its assets from the highest bidder. Bergeron maintained that Lomangino hid his discussions with Waste Management. Tuter, however, said the evidence presented showed Sun had informed Bergeron Environmental that they were in negotiations "to sell most, but not all of their assets, likely to Waste Management."
A provision of the joint venture agreement required the consent of both partners – Lomangino and Bergeron – on major matters and such consent "shall not be unreasonably withheld".
Bergeron Environmental's testimony about what they knew was "inconsistent with the evidence," Tuter wrote. "Not only did SUN leave a substantial paper trail informing BERI (Bergeron Environmental) of a possible asset sale, they made it clear in memos, emails and face-to-face conversations. "
The $525 million sale, via what's called an asset purchase agreement, was completed in January 2016. It gave Waste Management, owner of the mountainous Monarch Hill landfill in Pompano Beach, the control of recycling waste stream. Much of the waste that was once recycled is now dumped at Monarch Hill.
Yet the deal was odd for a reason left unanswered by the judge: A month prior, state antitrust regulators under then-Attorney General Pam Bondi had released a secret letter to attorneys for Waste Management had agreed to approve the garbage giant's purchase of SWS after being assured that the cities could renew their contracts in 2018 on the same terms and conditions. The cities were never informed of this condition or others mentioned in the letter.
Florida bulldog obtained a copy of the letter in May 2018 after a clerk error.
THE ORDER TO TUTER
Tuter's order goes on to note that a significant portion of the testimony in the case related to a July 2015 letter from Bergeron Environmental to Sun "setting out 13 conditions" required for Bergeron to consent to the deal.
"Despite BERI's protests to the contrary, the Court finds all requests were financial in nature. Beri's financial demands amounted to $6.3 million and were met by an offer of $4.3 million" from Sun.
According to the judge, this $2 million difference is what led to the lawsuit.
"As altruistic as the joint venture began, that is, to bring competition to the disposal services market in Broward County, had the joint venture partners ultimately agreed to financial terms, this litigation would not would never have happened," Tuter wrote.
Tuter was careful to say for the record that he considered all of the individual plaintiffs and defendants, as well as Waste Management's chief operating officer, John Morris, to be "credible and believable" witnesses. Of Ron Bergeron, Tuter said he was "an honorable and truthful person whom the Court has found to be a credible and credible witness". Bergeron's son and partner, Lonnie, "also gave honest testimony, but his memory on some matters" was inconsistent.
"Simplistically, Beri argued to the Court that the evidence would be that Sun and Waste were engaged in a large, long-planned conspiracy to steal JV customer contracts. The Court should be clear on this issue – it there was no competent substantial evidence to support such a theory," Tuter wrote. "The court rejects such assertion as these allegations were based on conjecture, supposition, and the absence of evidence."
TUTER ANALYSIS
"For years, BERI viewed everything Waste did in this transaction as having nefarious intent. The Court concludes from the evidence that Waste was strongly criticized throughout this litigation and during the trial. Waste was doing what all for-profit companies do – attempting to negotiate the purchase of assets to increase shareholder value.
"It was Sun who approached Waste. Trash didn't look for Sun," Tuter wrote.
Tuter noted that certain "appendices" in the asset purchase agreement were
"Swapped, changed and not managed as efficiently as a transaction of this magnitude deserved." This apparently led to confusion over the terms of the agreement and whether the joint venture's municipal contracts were included. Defendants argued that they were not part of the sale of assets to Waste Management.
Tuter said he resolved conflicting testimony on the issue by believing the testimony of LGL lawyer Amy Burbot that the "initial inclusion" of joint venture customer contracts in the agreement "was made in error, without malicious intent to deceive anyone – including government (anti-trust) regulators from the United States Department of Justice or the Florida Attorney General.
Once financial negotiations with Bergeron broke down, Tuter wrote, it was clear that Waste and Sun were going to close the deal without his consent and "both parties began letter-writing campaigns, neither of which were healthy. or beneficial to the joint venture".
CASAGRANDE'S DECEPTION
Once the deal was done, Sun appointed John Casagrande to represent him with the JV. What Bergeron didn't know then was that Casagrande had also signed a lucrative consulting agreement with Waste Management. Tuter called the relationship "misleading," but noted that it only lasted 67 days "and caused no harm or damage" to Bergeron.
"The evidence showed that the joint venture agreements in question were at best a profitable financial proposition. What really happened here was that after BERI failed to negotiate a sound financial settlement, they began a series of actions to alert state and federal regulators to what they perceived to be the APA (asset purchase agreement) between Sun and Waste, if closed means, that is- i.e. a monopoly in favor of garbage for garbage collection services in Broward County," Tuter wrote.
"Ultimately, the idealistic joint venture agreement formed to find ways to compete in the marketplace turned into distrust, animosity and name-calling, resulting in millions of dollars in legal fees and court costs.
"Make no mistake, the Bergeron family should be commended for their philanthropic contributions to Broward County. This Court is obligated to make decisions based on the greatest weight of evidence," which, according to Tuter, is defined in the statute as "the most persuasive and convincing force and effect of all the evidence in this case ".
In 2020, the latest year for which figures are available, Broward's overall adjusted recycling rate was 42%.
And Monarch Hill continues to swell.