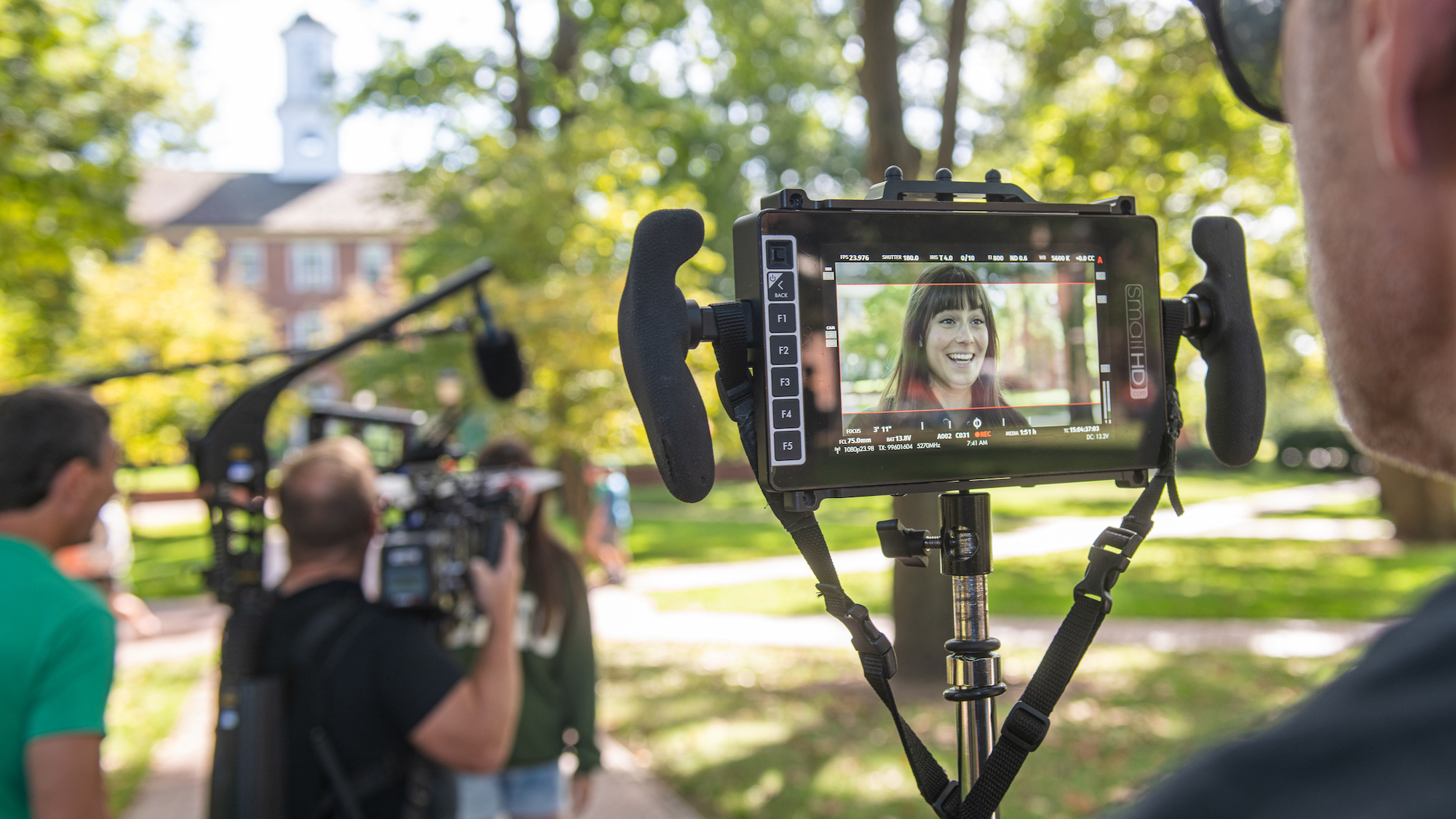 Alumni help feature Ohio University in new state tourism announcement
Ohio University's historic Athens campus was one of many Ohio sites to feature in the state tourism's new campaign video, "Big Moments." Photo Credit: Eli Burris/Ohio University
"What do you want to do this weekend?" This is a question we often ask our loved ones when trying to plan exciting activities, like taking a trip or attending an event.
A new ad, featuring the Athens campus of Ohio University, was recently released through the state's tourism brand, Ohio. Find it here.to highlight some of the state's dynamic locations and help answer the question of what to do next.
The new video spot begins at OHIO's historic Athens campus, which was founded in 1804 after the Ohio General Assembly passed an act establishing "Ohio University," a year only after state formation.
The city of Athens, Far & Wide's Best College Town in Ohio, is featured twice in the new ad as a grandmother picks up and drops off her granddaughter on College Green. The video follows them on a road trip, as they visit Playhouse Square in Cleveland, Kings Island in Mason and Tom's Ice Cream Bowl in Zanesville as well as other stops across Ohio.
With multiple campuses and centers located across the state, including Zanesville, Ohio University knows there are many areas that make this state a great place to work, live, and visit.
"Our state is full of incredible destinations and incredible talent," said Ohio University President Hugh Sherman. "At Ohio University, we have always been proud to be from Ohio and for Ohio, so being part of a showcase of places, people and products that call Ohio home is a honor."
Columbus-based Ron Foth Advertising created, directed and produced the video. Three alumni were on the creative team, including Doug Edwards, BSC '73, sound engineer; Ron Foth Jr., BFA '88, president; and Ron Foth III, BSC '21, Content Creator.
Foth Jr. was ad campaign manager and part of the team that created the spot. His son, Foth III, served as assistant producer and helped secure props, wardrobe, and assisted with planning. Edwards worked on the audio for the project.
"It was an amazing experience," Foth Jr. said of working on the campaign with his alma mater included. "I've been lucky enough to travel all over the world for my job, and every time I have the opportunity to return to Athens, I get goosebumps."
The Ron Foth Advertising team went to great lengths to ensure the ad was authentic to Ohio, making sure the chimes sounded great on the Athens campus right down to the shirts worn in the ad. from Ohio companies.
The group CAAMP, which started playing in the Athens area and recently gave a presentation and performance at the Music Industry Summit 2022, also provided music for the spot with their song "See the World".
"It's made in Ohio, and it just captures the essence of a road trip for me," Foth Jr. said of the new video. "Those are all the things that make Ohio great and distinct from other states. It's the energy and the thriving community we have, and there are so many great opportunities in the state. It's time to present them in a contemporary way that people relate to and hopefully gives them goosebumps when they watch it.